The 9th Annual RSCI Meeting in Los Angeles
Seascape Ballroom
Crowne Plaza Redondo Beach and Marina
300 N Harbor Drive
Redondo Beach, CA 90277, USA
May 8th-9th, 2019
The 9th annual meeting was held in Los Angeles, at Crown Plaza Hotel in Redondo Beach. Many of us enjoyed a refreshing morning walk or a bike ride along the beach. Special thanks to Dr. Kazumi Ikeda and his secretary Kei Miyazaki for all their effort in preparing another successful meeting at a great venue!
It was very encouraging to see the growing circle of discussion surrounding case files. The poster board presentations—which take a lot of time to prepare—were high quality and very informative. We are proud of the peer-learning opportunities the study club provides, and are happy to see the collaborative learning amongst its international members. Oral presentations, as always, were followed by ample discussion time. The two-way communication between the presenter and the attendees with the help of the Japanese and Spanish translators makes our group a one of a kind, truly international meeting. However, there is definitely more room for improvement as a group. Let's keep going and leveling up!
Thank you so much to every single one of you for yet another successful meeting. It was a fantastic meeting with some old friends from RWISO and some new faces. Looking forward to seeing you again soon in Atlanta!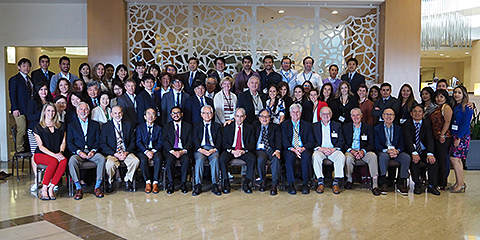 Group photo at the meeting venue
In the conference room
The 9th Annual Meeting, May 8-9, 2019
The meeting was held at Redondo Beach in Los Angeles.

Meeting Brochure
This meeting's theme: "Roth Mechanics and Beyond"

At the Council meeting before the conference
Front from left : Ted Freeland, Kazumi Ikeda, Satoshi Adachi
In the back: James Sieberth, Hidetoshi Shirai

At the Council meeting
Ted (left) and Kazumi (right)

From left: James, Hidetoshi and Sanae Iwakami (translator)

Hidetoshi giving the Opening Remark

The meeting is about to start!

Day 1, James is the moderator for the morning session

First presenter of the meeting Day 1, Kazumi Ikeda
The lecture title is "Goal Directed Mechanics and Beyond ~How TMJ status, especially DD, will influence the mechanics~"

First question by Normand Boucher

Kazumi answering his question

Another question by Noriyo Uchiyama

Another question by Claudia Morales

Kazumi answering members' questions

Discussion time continues

Behind the scenes: "our ears and voice"
Translators from Japan: Sanae (left), and Rei Kawagishi (right)
Thank you for your support!

Spanish interpreter, Arturo Espinosa (a member of RSCI)
Thank you for your support!

Kazumi (right) receiving a certificate from James (left) acting as a moderator

James introducing the next presenter

Next lecture by Hidetoshi Shirai
Title: "Roth Mechanics Part I ~Roth Mechanics which will make the difference"

Next lecture "Roth Mechanics Part II ~Vertical control – The fundamental concept that must always be kept in mind" by Tateshi Hiraki

First question by Joana Baden

Tateshi answering a question

A comment by Kazumi

A follow-up question by Paul Reyes

Tateshi (left) and Hidetoshi (center) receiving a certificate from James (right) acting as a moderator

Next lecture by Yasoo Watanabe after the lunch break
Title: "Anchorage and vertical control with TAD"

Hidetoshi, the moderator for the afternoon of Day 1, helping with the discussion time after lecture

Question from Emanuel Wasserman

Yasoo answering a question

Yasoo (right) receiving a certificate from Hidetoshi (left)

Hidetoshi introducing the next presenter

Next case presentation by Ana Colina
Title: "Treating and comprehending orofacial pain in a female orthodontic patient"

Kazumi giving a comment

A question by Andrew Girardot

Another question by Normand

The two Japanese interpreters Sanae (left) and Rei (right)

A follow-up question by James

Ana (right) receiving a certificate from Hidetoshi (left)

Next Case presentation by Takehiro Hirano
Title: "Seeing is believing" –Arthroscopic examination of the TMJ"

First question by Masaru Sakai

Takehiro answering Masaru's question

Another question by Marina Ramos

Next question by James
Discussion continues…

A follow-up question by Tania Olguin

Takehiro (right) receiving a certificate from Hidetoshi (left)

First Case presentation of the meeting Day 2 by Joana Baden on "Paradigm shifts in pre-adolescent orthodontic treatment"

Question from Masaru

Joana answering his question

Joana (left) receiving a certificate from Kazumi (right)

Next lecture by Satoshi Adachi
Title: "VTO and Force System"

First question by Jorge Ayala

Satoshi answering his questions

Discussion continues…

Another question by Joana

Another question!

A follow-up question by Andrew

Jorge still asking questions after Satoshi's lecture

Next lecture by Masaru Sakai
Title: "How to handle Class II and III patients with stabilization type splint: long term observation"

First question by Joana

Another question by Andrew

Masaru (right) receiving a certificate from Yasoo (left) acting as a moderator for the morning session of Day 2

Next case presentation by James Sieberth after the lunch break
Title: "Mechanics of Retention in Complex and Multi-Disciplinary Cases"

James (right) receiving a certificate from Takehiro (left) acting as a moderator for the afternoon session of Day 2

Next lecture by Dori Freeland
Title: "Retention During Growth Observation"

Dori (right) receiving a certificate from Takehiro (left)

Next lecture by Ted Freeland
Title: "8 stages"

Ted (right) receiving a certificate from Takehiro (left)

Yoshihiro Nakajima giving the Closing Remarks
Posterboad presentation and case file review
6 members participated with a poster board display
A lot of effort goes into making poster boards. Thanks to everyone that participated!

Jorge concentrating on poster boards

Takehiro Hirano's poster board titled "Arthroscopic findings of degenerative joint diseases"

Kazumi and Isayo Ikeda's poster board titled "Slight asymmetry case"

Another poster board from Kazumi and Isayo Ikeda titled "Short ramus case"
Thank you very much for your effort!!

Hideaki Miyata's poster board titled "Two-phase treatment of a growing child while maintaining a stable mandibular position with a splint"

Satoshi Sakai's poster board titled "Class II crowding case with CO-CR discrepancies"

Case file display
The required case files

Tateshi (left) and Masaru (right) having a discussion over a case file

Noriyo is fully focused

Members eagerly reviewing case files during break time

Jorge having a discussion over a case with Beatriz Cadioli

Ted and Tania concentrating on case files

Japanese members huddling over a case file

Japanese members chatting over case files

Members eagerly reviewing case files during break time
At coffee break
Enjoying a casual chat during Coffee break: Kazumi (left) and Jorge (right)

Kazumi (left) and Takehiro (right)

Having a discussion!

From left: Claudia, Tania Britzmann and Kazumi

Normand (left) and Jorge (right)

Renie Ikeda (left) and Straty Righellis (right)

Emanuel (left) and Andrew (right)

Ana (left) and Yukino Takagi (right)

Renie (left) and Ana (right)

Looks like everyone is having a great time!

From left: Hugo Palma, Diego Perez and Shigeru Tanaka

From left: Masaru, Motoyasu Taguchi and Hideaki

Donald Cronin (left) and Satoshi (right)

From left: Kazumi, Thomas Dusek and Donald

From left: Renie, Keenman Feng and Milada Gregor

From left: Eduardo Marin, Araceli Reyes, Marina and Jose Luis Cano

From left: Yasoo, Hidetoshi and Satoshi

From left: Daniela Cabrera, Alejandra Aburto, Straty and Normand

From left: Claudia, Tania, Joana, Doug Bukaty (Ortho Arch) and Mike Zerafa (Ortho Arch)

From left: Jorge, Beatriz, Paul and Marcelo Huerta

From left: Emanuel, Andrew and James

From left: Francisco Requena, Pedro Flores and Valeria Bogado

Dori (left) and Ted (right)

From left: Masako Komatsu, Yukino, Noriyo, Miho Yamanaka and Junko Hiraga

From left: Satoshi Sakai, Daisuke Nonoyama, Hiroshi Takeshita and Takehiro

From left: Hidetoshi, Tateshi and Junichiro Nagayama

From left: Ana, Ivonne Ortega and Tania

From left: Christina Aviles, Nagelhi Caero, Gustavo Altamirano and Arturo

Enjoying lunch!

Catching up with friends during lunch

Looks like everyone is having a great time!

Diego (left) and Shigeru (right)

From left: Keenman, Araceli, Jose, Christina and Marina

Junko (left) and Noriyo (right)

Miho (left) and Yukino (right)

From left: Arturo, Gustavo and Nagelhi

Daniela (left) and Valeria (right)

From left: Fatima Morales, Karla Gonzalez and Eduardo

From left: Marcelo, Francisco and Paul

Donald (left) and Milada (right)

From left: Tania, Ivonne and Ana

Renie (left) and Jorge (right)

At the Ortho Arch exhibit booth

From left: Satoshi, Joana, Kazumi, Alejandra and Claudia

From left: Isayo, Kazumi, Jorge and Beatriz
At the Gala
Gala was held at the pool side at Crowne Plaza Redondo Beach and Marina. Unfortunately it was cloudy and chilly, but we all had a great time mingling and unwinding outside of the meeting room.
From left: Masaru, Junichiro, Kikuyo Nagayama and Kazumi

Hugo (left) and Renie (right)

Tateshi (left) and Junko (right)

Masami Taguchi (left) and Motoyasu (right)

From left: Yukino, Ana and Ivonne

From left: Diego, Shigeru and Noriyo

From left: Straty, Thomas and Kazumi

From left: Hugo, Arturo, Gustavo, Ivonne, Nagelhi and Christina

From left: James, Beatriz, Jorge and Milada

From left: Satoshi, Noriyo, Keenman and Hideaki

From left: Masaru, Satoshi, Diego and Shigeru

From left: Isayo, Hugo and Renie

Front from left: Nagelhi and Christina
In the back: Gustavo and Arturo

From left: Hitomi, Miho, Yasoo, Motoyasu and Masami

From left: Kikuyo, Junichiro, Takehiro, Yoshihiro, Hidetoshi and Masako

From left: Yukino, Junko, Tateshi, Noriyo, Kei and Yurie

From left: Ana, Tania, Dori, Ivonne and Ted

Everyone is having a great time!

From left: Paul, Jorge, Beatriz and Valeria

From left: Isayo, Masaru and Renie

From left: Takehiro, Yoshihiro, Hidetoshi, Masako and Ana

From left: Thomas, Keenman, Hideaki, James and Ted

Straty (left) and Kazumi (right)

From left: Milada, Dori, Ivonne, Ana and Tania

James (left) and Kazumi (right)

From left: Tateshi, Noriyo, Junko, Motoyasu, Shigeru and Yasoo

From left: Satoshi, Diego, Kei, Ted and Thomas

From left: Masaru, Straty, Isayo, Renie, Kikuyo and Junichiro

Shigeru (left) and James (right)